Skip to Content
Trending: The Interior Sliding Barn Door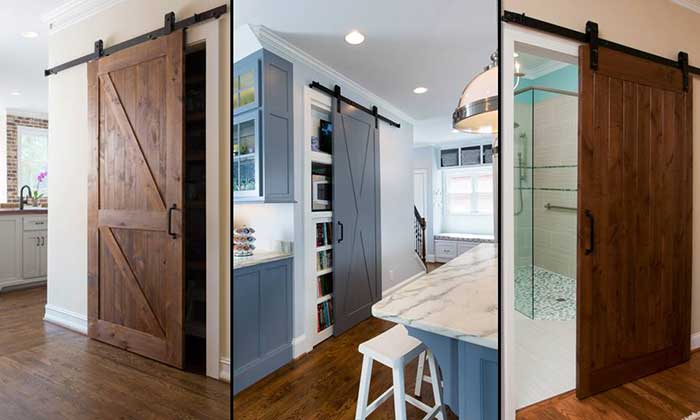 Barn doors provide an ultra-stylish solution for cramped spaces. The finish of the doors can easily take them from the farm to an urban loft!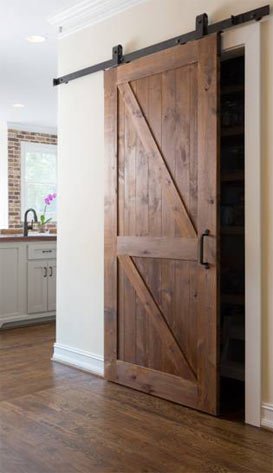 If you love home design like we do, over the past two years your social media feeds have undoubtedly been full of pictures of gorgeous clean line homes with surprising rustic elements that just…work! We've all watched the growing Modern Rustic trend with interest because it embodies what we love so much about good design: diverse or unexpected items that work together in amazing ways.
This growing style is all about adding old to new, like adding a touch of nature to home. This trend can transcend all interior styles and can be implemented in countless ways. One of the most popular ideas that have resurfaced thanks to this popular design style is the sliding barn door. Barn doors may have once been used almost exclusively in small spaces that couldn't accommodate a swinging door; that is not the case today. Nor are barn doors strictly limited to the rustic/reclaimed look that once defined the feature. There are so many ways to introduce them into space; the finish of the doors can easily take them from the farm to an urban loft.
JR Renovations has designed, built and installed many kinds of sliding barn doors and we recently asked two of these clients about their thoughts on this trending item! JRR client, Meryl Kaufman of Dunwoody liked the look of the door and did not like the space that a traditional swinging pantry door would take up in her kitchen.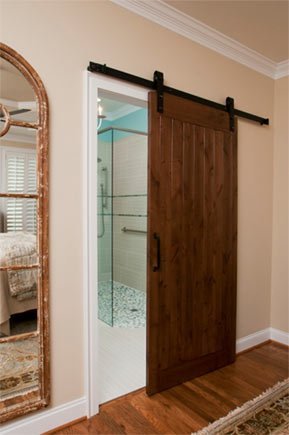 "The kids often left (the old door) open and it would obstruct passage in my hallway. The barn door is flush to the wall and does not take up additional space when opened. My favorite part (about this door) is the way it looks and feels when opening. I also love how people react to it when they see it. There is NOTHING I don't like about it!"
In Marietta, Gail Shurbutt had limited options when it came time to select a door for her master bathroom renovation. "The aesthetic look of the barn door added to the overall design appeal of the room. It complemented our existing furniture – a mix of traditional and farm-style pieces – and it served as a functional piece. I love this door because it mixes function with style!"
Shurbutt says "the door causes our guests to stop and look – it's unexpected, given that the first thing you see when you look into the master is a four-poster plantation-style bed. You don't expect this non-traditional element. The color and style of the door do not overwhelm the space, it invites one into the master bath. The utilization of space is critical in design. Having doors open into each other is not only frustrating, but it is also simply unnecessary. Sliding barn doors are not limited to farm-style decor. They blend perfectly in traditional design, as well as modern. They are not a period piece. They offer a timeless appeal if used properly in the design scheme."
While design trends come and go, those that are pretty and functional tend to stick around awhile. This is probably why with all the possibilities and adaptations of these doors, they will not be leaving our newsfeeds any time soon. Of the lifespan of the barn door trend, Kaufman says, "I would tell others to follow their instincts and not to let others talk them out of something they really want…Make it what you love!"