Skip to Content
High-End Outdoor Living Renovations in North Metro Atlanta
Premier Home Remodeling by JR Renovations
At JR Renovations, we're here to ensure North Metro Atlanta has access to the best outdoor living solutions in the region. Gone are the days of being satisfied with cookie-cutter outdoor areas. Today's homeowners want their entire homes to be modernized and functional. Your outdoor living space should be adorned with fireplaces, exotic wood floors, and other high-class custom comforts. You're in luck because our team of professionals aims to deliver with our specialized outdoor living remodels. All it takes is a design contract to begin the renovation process with our award-winning design and build firm. We can help you breathe some new life into your outdoor living spaces, so friends and family will want to gather at your home every holiday. Your new space will allow you to host backyard barbecues, birthday parties, book clubs, and all the social events in-between. We encourage you to take a look at our impressive portfolio galley or customer testimonials. See for yourself why we've been recognized as one of Atlanta's leading home remodelers for nearly 25 years and counting!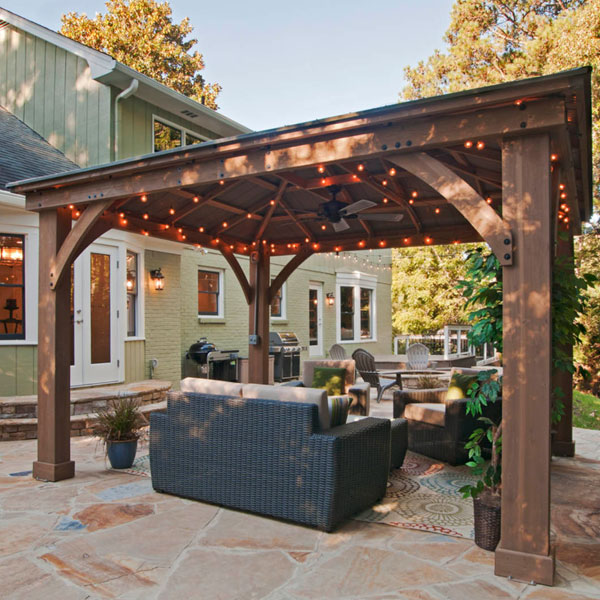 Award-Winning Remodeling Services
For over two decades, our dedicated team has exceeded customer expectations one project at a time. As one of the best states in the country to enjoy the outdoors, Georgia property owners rely on our team to turn their outdoor space into their very own outdoor haven. Why not add a new and improved living space to your property? Our streamlined solutions have the ability to create outdoor living spaces that feel like an extension of your home. We have the expertise to deliver top-notch custom remodeling solutions meant to enhance your property's overall curb appeal. These include:
Sunrooms
Screened porches
Decks
Patios
Arbors
Gazebos
Fireplaces
Pergolas
Outdoor kitchen
Outdoor bar area
Outdoor lighting
And more!
Ideas to Inspire Your Next Outdoor Living Space Remodel
Whether you're interested in redesigning your patio, deck, or porch area, there are plenty of ways to create stylish outdoor spaces to evoke feelings of comfort and luxury. We'd be happy to install a fireplace or pergola to make the most of your outdoor living space. If you foresee more entertaining in your future, a sophisticated barbeque station or updated al fresco dining area may be in order. And every homeowner in the area could benefit from the addition of a screened enclosure to keep the elements and pests away. Do you want to incorporate some of the ambiances from your favorite neighborhood bar or restaurant in your very own backyard? We can deliver the aesthetics and modern outdoor lighting elements to make your visions come to life. With the proper planning and execution, home renovations should help you maximize your space and function while improving the value of your home. Thanks to our talented team and seamless designs, your guests will be left wondering if your updated outdoor living spaces came with your home upon buying. We're just that good! Rely on our team for our dedication to superior craft and keen attention to detail.
Your Luxury Outdoor Living Space is a Call Away!
At JR Renovations, we want to help you develop your vision of the perfect outdoor living space and shape it into a tangible reality. Our customers aren't satisfied with humdrum design solutions, and neither are we. When you're looking for a high-end home remodeling that will make your neighbors ask who you hired, look no further. When it comes to jaw-dropping, on-time, and on-budget renovations, we're North Metro Atlanta's first choice. And with our computer-aided drafting and several other state-of-the-art techniques and tools, there's no better team to trust with your home remodeling. Contact John Rodgers Renovations today to discuss the endless possibilities for your outdoor living spaces. Bring your ideas to the table, or feel free to rely on our nearly 25 years of expertise to ensure you're satisfied with your renovation for years to come.
Award Winning Design + Build Firm