Skip to Content
Make the Most of Outdoor Living in North Metro Atlanta, GA
The days of a simple screen porch addition feeling like a complete overhaul are long-gone. Today's homeowners want modernized, functional outdoor living spaces transformed with fireplaces, exotic wood floors, and other creature comforts. And John Rogers Renovations aims to deliver with our specialized outdoor living remodels in the North Metro Atlanta Area. All it takes is a design contract to begin the renovation process with our award-winning design and build firm. We can help you breathe some new life into your outdoor living spaces, so friends and family will want to gather at your home every holiday, backyard barbecue, birthday bash, and all those less significant days in-between. Take a look at our impressive portfolio or customer testimonials to see why we've been consistently ranked among Atlanta's leading home remodelers for nearly 25 years and counting!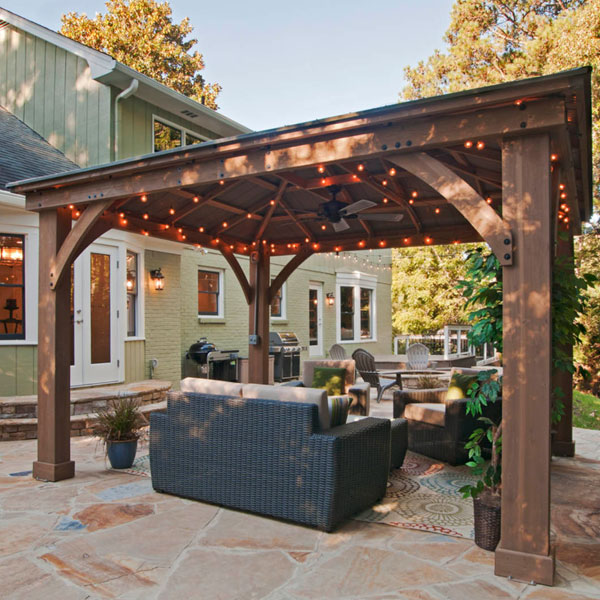 Ideas to Inspire Your Next Outdoor Living Space Remodel
Whether you're interested in redesigning your patio, deck, or porch area, there are plenty of ways to create stylish outdoor spaces to evoke feelings of comfort and luxury. We'd be happy to install a fireplace or pergola to make the most of your outdoor living space. If you foresee more entertaining in your future, a sophisticated barbeque station or updated al fresco dining area may be in order. Screen enclosures can keep you protected from the elements and pests. Consider adding modern outdoor lighting elements to create an ambiance rivaled only by your favorite neighborhood bar or restaurant. With the proper planning and execution, home renovations should help you maximize your space and function while improving the value of your home. Thanks to our talented team and seamless designs, your guests will be left wondering if your updated outdoor living spaces were designed this way initially, which is the best compliment to our craftsmanship and attention to detail.
Develop Your Dream Outdoor Living Space with Our Expertise
At John Rogers Renovations, we want to help you develop your vision of the perfect home and shape it into a tangible reality. Development starts with a detailed design contract and a plan. Contact our team today to discuss the possibilities for your outdoor living spaces. Bring your ideas to the table, or feel free to rely on our nearly 25 years of expertise to ensure you're satisfied with your renovation for several years to come. You won't regret your renovation, thanks to our skilled team and streamlined process!
Award Winning Design + Build Firm