Skip to Content
Kitchen Remodels in North Metro Atlanta
We Have Extensive Kitchen Remodeling Expertise
Homeowners throughout North Metro Atlanta and the surrounding area have trusted JR Renovations to complete their kitchen remodeling projects for nearly a quarter-century. Regardless of whether you desire a contemporary or traditional kitchen remodel for your home, our team of experts can complete the task. In addition to offering skilled craftsmanship, we can also help you conceptualize the kitchen of your dreams. We are up to date with all the current kitchen trends and timeless designs that will impress your guests. Our knowledgeable professionals can evaluate the state of your existing kitchen and identify every area that needs improvement. We will handle all the details while keeping you informed and using your input to achieve your vision. Our kitchen remodel projects require a comprehensive design contract before we begin. Call us today for an initial phone consultation so that we can start your kitchen transformation right away.
Reasons to Upgrade Your Kitchen
Every kitchen is unique. There are dozens of elements that help complete your kitchen, such its appliances, cabinets, countertops, design, and more. JR Renovations can improve all these features, regardless of your motivation behind doing so. Homeowners throughout North Metro Atlanta opt to remodel their kitchens for a variety of reasons. Among the most common are:
Modernity – It is possible to love your kitchen but still recognize its limitations based on age. If you have an older home, let our kitchen remodeling professionals introduce modern amenities to your home.
Value – An enhanced kitchen is sure to increase the property value of your home, making it more attractive to potential buyers when it is time to sell.
Energy savings – JR Renovations can help you save on your monthly utility bill by adding skylights and windows to increase natural light as well as installing energy-efficient appliances to replace your outdated versions.
Change – Some of our clients simply want a change from the norm. Renovations can enliven a room and restore its former glory quickly.
The Kitchen Is A Central Component of Your Home
The kitchen is one of the most important rooms in your house. It is a gathering spot for friends and family, a place to prepare meals and snacks, and perhaps even a setting for relaxation after a long day. Regardless of how you use your kitchen, it should be an area you enjoy for its style, elegance, and practicality. If your kitchen could use an upgrade, rely on the team at JR Renovations to provide it. We can suggest a host of ways to improve your kitchen's beauty and utility, drawing on nearly 25 years' worth of experience in the industry. From simple tweaks such as a new coat of paint to more sophisticated endeavors such as the addition of an island, we can do it all. Let us know what you want out of a dream kitchen, and we will help make it a reality.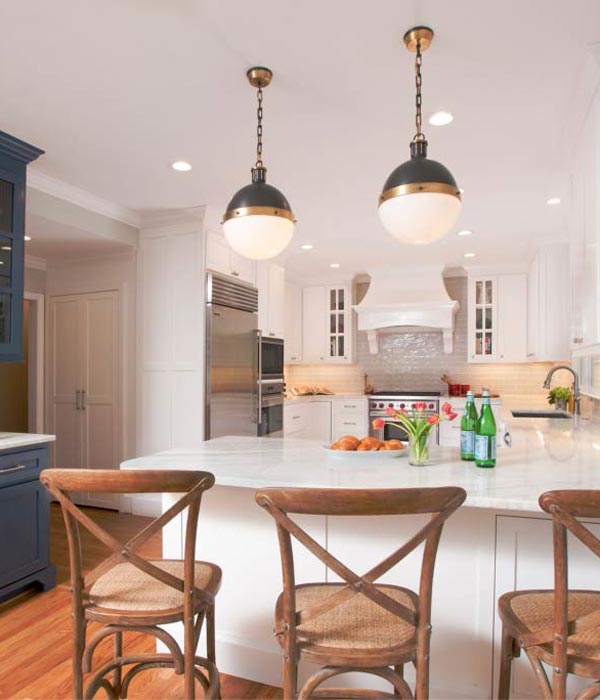 We Provide A Wide Variety of Kitchen Renovations
Whether you have a vision for your kitchen or need help creating one, JR Renovations' experts are here to help. If you have something in mind, let us know. We will happily take your advice and create the kitchen you have always wanted based on your description and needs. But if you merely know you need to improve what is currently in place, we can do that, too. During a series of consultations, we will provide suggestions based on your style and setting to produce the perfect kitchen for you. Our kitchen remodeling schemes include:
Exquisite tile backsplashes – Add flair to your kitchen by introducing tile backsplashes. You can choose from a wide range of colors, styles, and designs.
Beautiful paint – Whether you are changing the color of your walls or freshening the paint on your cabinets, new paint will brighten the appearance of the entire room.
Countertop installation – For utility or style, JR Renovations can upgrade your workspace with the introduction of new countertops.
Island installation – To avoid empty space in the center of the room and make cooking or visiting more convenient, we can install an island in your kitchen.
Creative storage options – From stylish cabinets to innovative shelving options, we can provide a host of creative storage options to enlarge your kitchen and enhance its appearance.
New appliances – A kitchen remodeling project is not complete without modern, energy-efficient appliances to simplify cooking and cleaning.
Why You Should Choose JR Renovations
Since 1996, homeowners in Atlanta have chosen JR Renovations for all their home improvement needs. Our reputation for exceptional craftsmanship and friendly customer service has helped us become an industry leader throughout the region. We streamline every project using computer-aided drafting tools that ensure quality and accuracy. Such careful coordination and attention to detail allow us to complete your kitchen renovation on time and within your budget. JR Renovations is a member of the National Association of the Remodeling Industry (NARI) and has earned multiple awards from the Big 550 and Atlanta Business Chronicle for our outstanding work.
Contact JR Renovations to Discuss Our Process
Your kitchen is a haven designed for cooking, eating, socializing, and more. If you are bored with your current arrangement or are long overdue for improvements, a kitchen remodel may be what you need to reinvigorate your home. JR Renovations has been remodeling kitchens for more than two decades, with an extensive portfolio of successful projects. The professionals at our award-winning design and build firm are anxious to improve the kitchen in your North Metro Atlanta home, so contact us today for a consultation.
Award Winning Design + Build Firm