Skip to Content
Home Remodeling Innovation: Creating A Smart Home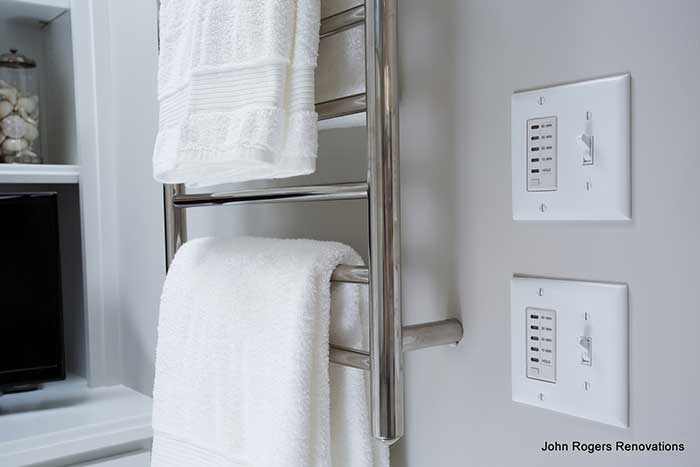 For all of us who grew up marveling at the fictional future world of The Jetsons, today's smart home innovations are nothing short of amazing. When that show first aired in 1962, could we have imagined that fifty years later we would be controlling the temperature of our homes with our voice? Or that our refrigerator would be ordering our groceries for the week? With the widespread use of smartphones and tablets, we are living in the most connected time ever. The use of this technology in the home is growing; whether it's to assist with everyday tasks, enhance security or optimize our home's function, a smart home is top on the list for many homeowners looking to remodel.
There are many, constantly evolving, technology options that remodelers like JR Renovations are adding during home renovations. One of the most requested options is for home security. Manufacturers like SimpliSafe, Kwikset and August Lock have created affordable and elegant looking options for smart door locks that can do more than your regular lock and key:
Your Smartphone becomes your key
Send and manage eKey access via smartphone – receive notifications and monitor lock history
Auto-unlock allows your door to unlock when you come in close proximity
EverLock automatically locks your door behind you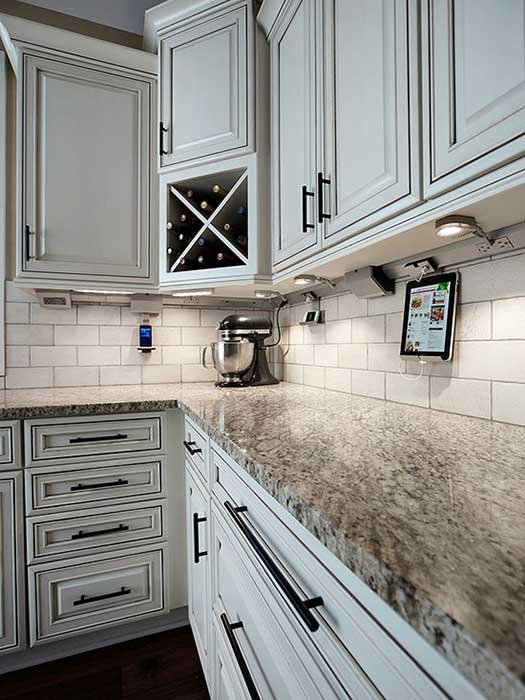 The kitchen is another great place for technology. No matter if you're searching and storing new recipes, or watching videos to perfect your pie crust, technology is a must-have in the kitchen. For those who use their phones and tablets in the kitchen – especially while cooking – lighting manufacturer Legrand has revealed an interesting product that integrates lighting and mobile devices. Customizable with a modular LED puck or linear lights, the system offers power outlets, USB ports, a Bluetooth music system, and mobile charging cradles.
Kitchen appliances are beginning to take on Jetson-Esque qualities we have all wished for. First, when it comes to ovens, manufacturers are focusing on speeding up cooking times without affecting quality or energy drain. Many now use Wi-Fi connections to offer cooking tips, store recipes, and sometimes even automatically preheat and set timers for suggested recipes. There are also models that have coordinating smartphone or tablet apps for remotely checking the temperature or timer. (Imagine your roast alerting you wherever you are in your home – or your oven preheating before you even arrive home.)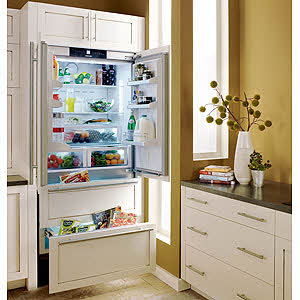 Refrigerators are also undergoing dramatic changes, and have been perhaps the most popular appliance to upgrade. Built-in TV screens are old news; newer refrigerators also incorporate Wi-Fi connections to look up recipes, display photos, or function as a timer. Detachable screens make recipes portable while cooking. Inside the appliance, there are models with independent temperature controls for various compartments to allow for maximum customization. door-in-door compartments provide quick access to condiments, and hot-water dispensers make quick work brewing tea or making hot cocoa. While refrigerators that scan your items and make your grocery list are not yet mainstream, they are not far off.
There are also technology improvements focused on our health. Faucets with integrated filtration systems keep fresh filtered water on tap. Motion-activated faucets conserve water, only running when they are in use, and also improve hygiene by keeping dirty hands from touching them.
Nearly all of the lighting in your home can also be upgraded to Wi-Fi / App-Based lighting with a few simple changes from JRR's remodeling team! If you've never considered this option before, consider what this type of lighting is capable of:
Added Security: Wherever you are, your home can look like you never left. You can set up timed lighting sequences for when you're away and for when you typically return home!
Vacation Mode: Vacation mode automatically remembers your last week of lighting activity. Set it for your house to replay on its own while you're on vacation.
Energy Savings: Ever wonder if all the lights are off for the night? Use the app to ensure the electricity goes to bed when you do or to make sure the kids turned off the lights before heading to school.
Make Your Own Rules: Whether you have a favorite lighting scheme you want to save and reuse, or if you just like the lights to be on when you arrive home from work, you can set your lighting rules however you like.
When speaking with John, or any member of the JRR remodeling team, ask them about any of these smart home technology innovations. They will gladly give you their recommendations and opinions on what you and your family will find most useful and what is worth investing in now, or in the future.