Skip to Content
Atlanta Outdoor Living Spaces: Sunrooms And Screened Porches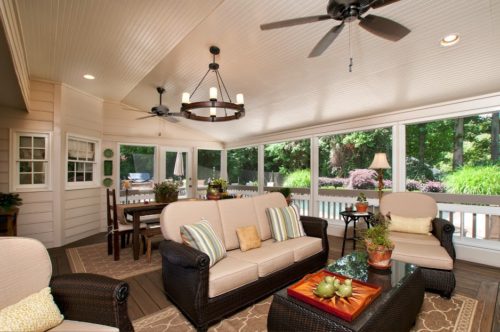 Around Atlanta, we are lucky enough to have a temperate climate where we can utilize our outdoor spaces for the majority of the year. Outdoor kitchens and grilling spaces have been a popular home improvement project for nearly a decade. A great way to enjoy the suburban outdoors, many homeowners found that outdoor space with no protection had a more limited use than they wanted. Frequent summer pop-up thunderstorms and pesky southern bugs can often put a damper on the party outside.
The solution to this problem is two types of projects that JR Renovations has been designing and building for our clients in vastly increasing frequency: custom sunrooms and screened porches. Protected living spaces like these that blur the line between outdoor and indoor living are extremely popular because our clients love that feeling of being outdoors and connected to nature, minus inconveniences like cold winds, mosquitoes, and glaring sun.
Here are a few of the cornerstones of JRR sunrooms and porches that separate our custom rooms from all the rest.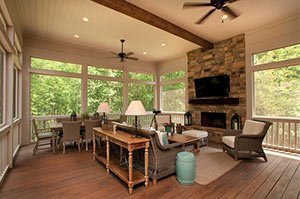 Style and design extensions – The first cornerstone in porches, sunrooms, and the outdoor living area design is creating a seamless transition from inside to outside by matching the style and design of the interior. Homeowners are seeking the same level of comfort and livability from their porches that they have inside. JRR spaces look like they were originally designed with the home, not an afterthought.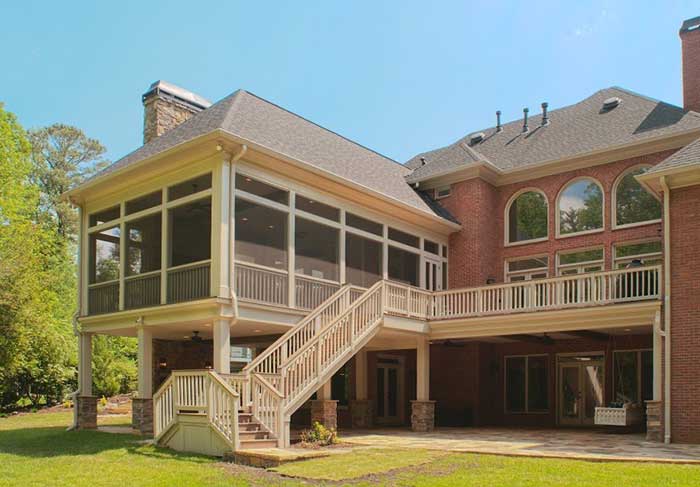 High-quality furnishings & materials – Our homeowners are increasingly choosing high-quality furnishings for their enclosed porches and sunrooms. A wide variety of materials and accessories that are as beautiful, durable and long-lasting as those used indoors are available and affordable. From outdoor-friendly appliances, fireplaces, televisions to exotic wood and tile flooring; every piece of the renovation is custom selected for space.
Months of use – A primary trend incorporated into JRR porches and outdoor living areas is the planning and equipping them for use beyond the warmest weather months. Homeowners are investing in these spaces to make them livable for as many months out of the year as possible. This is being accomplished in design – such as open gable roofing to make use of natural lighting and add spaciousness – as well as in furnishings, particularly with outdoor fireplaces. And don't forget fans for when the Atlanta summers are in full swing!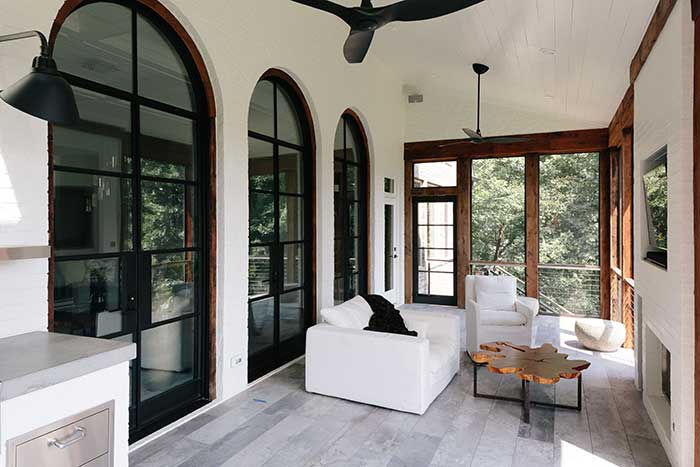 Buying local – The "buy local" trend is extending beyond produce and small retail shops to include home renovations as homeowners are frequently seeking local craftsmen for the designs and furnishings of their living spaces, including their porches. Shopping locally is friendly to the environment and the community economy, and increasingly, individuals are choosing furnishings and accessories appropriate and unique to their locale. JRR utilizes many local craftsmen who are extraordinarily talented and have created some amazing and unique features for our clients, including these custom iron and glass doors leading out to a luxurious screened-in porch.